Book Reviews

Or Perish in the Attempt - Wilderness Medicine in the Lewis & Clark Expedition
Author: David J. Peck, D.O.



| | | |
| --- | --- | --- |
| | | |
| | "This well documented book investigates the health issues faced by the Corps of Discovery on its epic journey. The author's keen observations, literary style and witticisms make this book an entertaining and enlightening read." | |
| | | |
| | Alaska Airline Magazine | |
| | | |

| | | |
| --- | --- | --- |
| | | |
| | "Your book brings home more powerfully than any I've ever read the meaning of the word hardship as applied to the Corps of Discovery" | |
| | | |
| | Moira Ambrose | |
| | | |

| | | |
| --- | --- | --- |
| | | |
| | "Dr. Peck has two passions the Lewis and Clark Expedition and wilderness medicine. He combines them in an entertaining and educational manner and follows the lives and travels of Lewis and Clark intertwined with the medical practices of the early 19th century...For those of us interested in adventure, culture clash, and medicine, this is an exciting book to read. Dr. Peck's passions are well served." | |
| | | |
| | J. David Kinzie, M.D. The Sounding Board, Oregon Health Sciences University | |
| | | |

| | | |
| --- | --- | --- |
| | | |
| | "Dr. Peck's book is skillfully written, timely, and well researched" | |
| | | |
| | Volny Steele, M.D. Review in Montana The Magazine of Western History | |
| | | |

| | | |
| --- | --- | --- |
| | | |
| | "Dr. Peck has assembled an engrossing account of the illnesses and injuries as gleaned from the journals…the best known medical compilation in book form is the widely Cited, Only One Man Died. Or Perish in the Attempt is a major improvement…the Strength of Peck's book is its delightful readability…a splendid narrative that binds the reader." | |
| | | |
| | Frank L. Iber, M.D. The Journal of the American Medical Association, July 2, 2003 | |
| | | |

| | | |
| --- | --- | --- |
| | | |
| | "David Peck has brought a transfusion of new energy to Lewis and Clark scholarship. Everyone who reads his excellent and witty book on the medical aspects of Lewis and Clark will gain a new appreciation for the almost unbelievable stamina of the men-and one very remarkable woman—of the Lewis and Clark Expedition." | |
| | | |
| | Clay S. Jenkinson, Scholar-in-Residence Lewis and Clark College, Portland, Oregon | |
| | | |

| | | |
| --- | --- | --- |
| | | |
| | "Dr. Peck's book, Or Perish in the Attempt is significant not only for the new medical information that it brings to light, but because it is one of the most readable and entertaining of the books about the Lewis and Clark Expedition. When asked which of the many books someone should read about the Expedition-or give as a gift-I recommend, Or Perish in the Attempt." | |
| | | |
| | Carol A. Bronson, Executive Director, Lewis and Clark Trail Heritage Foundation, Great Falls, Montana | |
| | | |

| | | |
| --- | --- | --- |
| | | |
| | "Medicine and adventure have taken a giant leap from the Journals of Lewis and Clark into the pages of Dr. Peck's book…a modern classic!" | |
| | | |
| | C. Dwayne Shafer, M.D., Ph.D., Stephenville, Texas | |
| | | |

| | | |
| --- | --- | --- |
| | | |
| | "Or Perish in the Attempt, takes a new look at the myriad dangers faced by the explorers on a daily basis on their trek into the Western wilderness. What Dr. Peck finds is altogether revealing, instructive, and entertaining. One of the most rewarding reads of the Bicentennial." | |
| | | |
| | Dave Walter, Research Historian, Montana Historical Society | |
| | | |

we suggest:
Some Medical Matters Video
Become a fan on Facebook

Or Perish in the Attempt:
The Hardship and Medicine of the
Lewis and Clark Expedition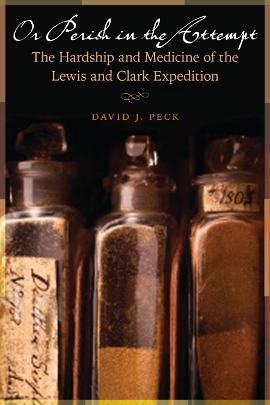 Produced by Oregon Public Broadcasting and Lewis and Clark College, Unfinished Journey, The Lewis and Clark Expedition is a 13 part series, narrated by Peter Coyote. This landmark series was carried nationally on over 80 NPR stations and covered a diverse number of topics relating to the Lewis and Clark Expedition. Dr. Peck was a featured participant in two of the episodes. These episodes are featured here in their entirety for your pleasure, courtesy of Oregon Public Broadcasting, Portland Oregon.
Interact with
Dr. David Peck
Clay Jenkinson, the new editor and director of Discovering Lewis & Clark®, is the author of the most recent featured addition to the site"


www.lewis-clark.org